Innovation may allow us to write again
Patients Parkinson's disease
Innovation may allow us to write again
10

views

0

support

1

comment

movin_on
03/07/2023 at 12:26 PM
I came across this article and I think it is great. When I struggle to write, I feel like I've lost a part of a basic function of my life. This seems like it could help.
https://news.northwestern.edu/stories/2023/03/students-design-pen-for-parkinsons-patients/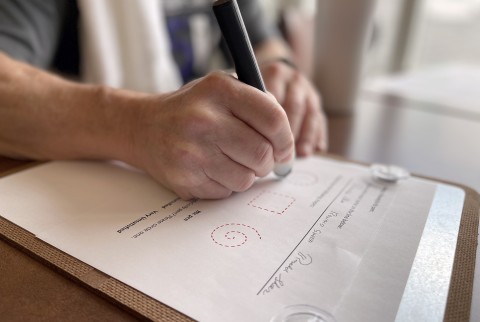 A pen designed for Parkinson's patients
Since its founding, SteadyScrib has tested a product on more than 40 individuals in the effort to develop a pen that negates the tremors experienced by Parkinson's disease sufferers.
All comments

Polina.K
Community manager
03/08/2023 at 9:59 AM
Hey @movin_on! How are you feeling today?
Thank you so much for sharing this article! It seems super interesting and could help a lot of people! Writing with Parkinson's disease can be beyond challenging and impossible for some cases, therefore if this pen could work, it would make big innovative progress! I will tag some members, who might find the article interesting and want to share their opinions on it.
@parkinsonman @DebRog56 @Puggies @Toyah5 @Lupe12
Hey everyone! I hope you are having a good day!
What do you think about this article? How are your hand movements and hand control now? Do you think such pen could help with writing? Would you like to try it?
Take care,
Polina from the Carenity team
Innovation may allow us to write again
https://www.carenity.us/forum/parkinsons-disease/living-with-parkinson/innovation-may-allow-us-to-write-again-5162
2023-03-08 09:59:26
Members are also commenting on...
Subscribe
You wish to be notified of new comments
You have been subscribed