/static/themes-v3/default/images/default/about/intro.jpg?1516194360
Carenity's mission is to make patients' voice heard in order to help medical research advance.
Data for Good, what is it?
Data for Good comprises all the personal information you communicate every day.
On Carenity this data relates to your health: your perception of the disease, your symptoms, your treatments' side effects, etc., your comments in which you support and advise other members and of course your answers to our polls and surveys.
This data contributes to the evolution of medical knowledge, because Carenity makes it possible for private and public healthcare stakeholders (industries, physicians, researchers, patient organisations…) to hear what patients have to say. Thus you can have a direct influence on the development of a new treatment or a digital tool, or on reducing the out-of-pocket expense, and can contribute to the improvement of healthcare services for yourself and for others. The latter corresponds to the last stage of the Data for Good "virtuous circle".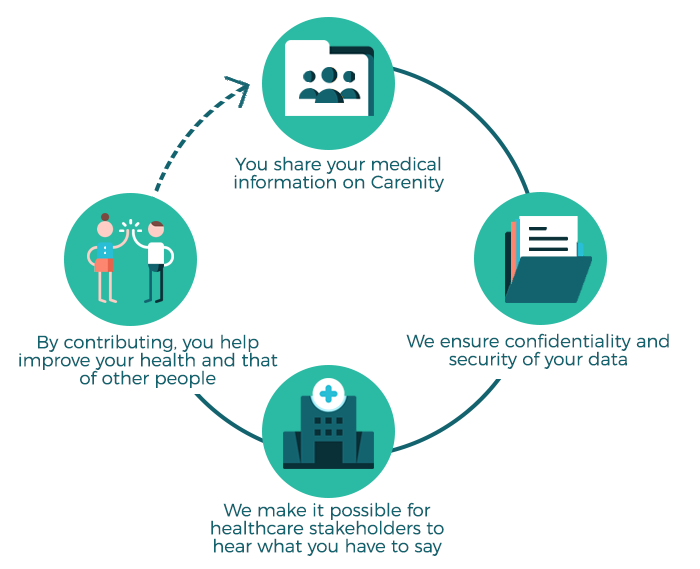 Data for Good, where is it?
On the

forum

: when you share your experience with other members.
On the

medications

page: when you rate a treatment and provide details about its effectiveness and side-effects.
In the

workshops

: when your community manager invites you to give your opinion on a certain topic like getting pregnant when having a chronic condition, or digital health.
In the

surveys

: when the Carenity team invites you to complete a questionnaire about your medical care or about your treatments.
Data for Good, is it secure?
Are you reluctant to share your medical information? Rest assured that on Carenity your data is confidential and is collected and shared in aggregated form, which means that it is impossible to identify you through it. This process adopted by Carenity respects the new General Data Protection Regulation that will come into force in all the countries of the European Union in May 2018.
So don't be scared to participate in this revolution of medical information, to take your health in your hands and to act in partnership with doctors and researchers.