How can I be the best support for my loved one with cancer?
Patients Cancer
How can I be the best support for my loved one with cancer?
260

views

6

times supported

22

comments

Shellbell5724
05/18/2020 at 7:40 AM
Hi everyone. My name is Michele. Once again I am up in the middle of the night. It's the only time I can show my emotions without him seeing. He has been the rock in my life. The absolute hardest working, honest, selfless most giving person I have ever known. A giver to a fault. We got the initial diagnosis Thursday morning. He had the endoscopy on Wednesday. I was praying it was an ulcer. GERD. Anything but esophageal cancer. And now further testing will be done to get a more accurate picture of what we are facing and which road to take. I will call the cancer center in the morning and I will keep calling. We need to get him in there. We need to know. This waiting limbo sucks. He has lost so much weight. I feel guilty eating in front of him. It is painful to watch him eat. I go crazy trying to prepare things that are easy for him to swallow. He was a meat and bread picky eater. Now I'm making smoothies and sneaking in yogurt. He hates yogurt. I want him to preserve his energy for what is ahead. But he can't be idle. I think the not knowing is making him crazy. Me too. So as much as I wanted him to relax today he built new vegetable garden boxes for me. He power washed some of the deck. I really don't want him to exert his calories but I know his mental well being is a huge part of this. And mine too. I guess that's a lot of the reason why I am here. I know I need to stay healthy for him to get him through this. This sucks. This pandemic. My son is a High School Senior and I am also worried about his mental well being. And then this. I wake up in the morning and it all hits me like a ton of bricks. So, thanks for the vent. Thanks for this community. I guess I'm looking for support for how I can be the best possible person for him and also not curl up into a ball myself. Love to all. I wish you all the best ❤️

Unregistered member
05/22/2020 at 3:01 PM
I was at chemo this week and I always have the same nurse. Her name is Laura and along with a great sense of humor she's full of good common sense. I think the world of her, she knows this. Anyway she suggested some thing to me that I'd heard once before from a younger guy on the hospital staff who came through Hodgkin's lymphoma as a teenager and is doing great today. A wellness gift. The assumption of course is that there will be a future and we'll have something exciting to look forward to. It doesn't matter what it is. Guessing folks in a relationship might plan s getaway. Me? I've come to love old bicycles again after not thinking about this interest for years. My bike has helped me so much through these months of chemo and certainly more than the nausea & anxiety pills. Anyway I bought an early 1980's  Raleigh bicycle with an unusual frame that I can get on and off of easily. Not a ladies bike, at least that was not the intent (but ladies liked them..,).  I'll park it in the room where I sleep and I'll take it out when I find myself in remission. Might seem silly but I felt better after I ordered it fr. eBay last week. Can't wait 'till it comes in, here's s pic. Made either in the Carlton factory or in Nottingham.. But a slight chance that it was built in Raleigh's U.S.A. factory...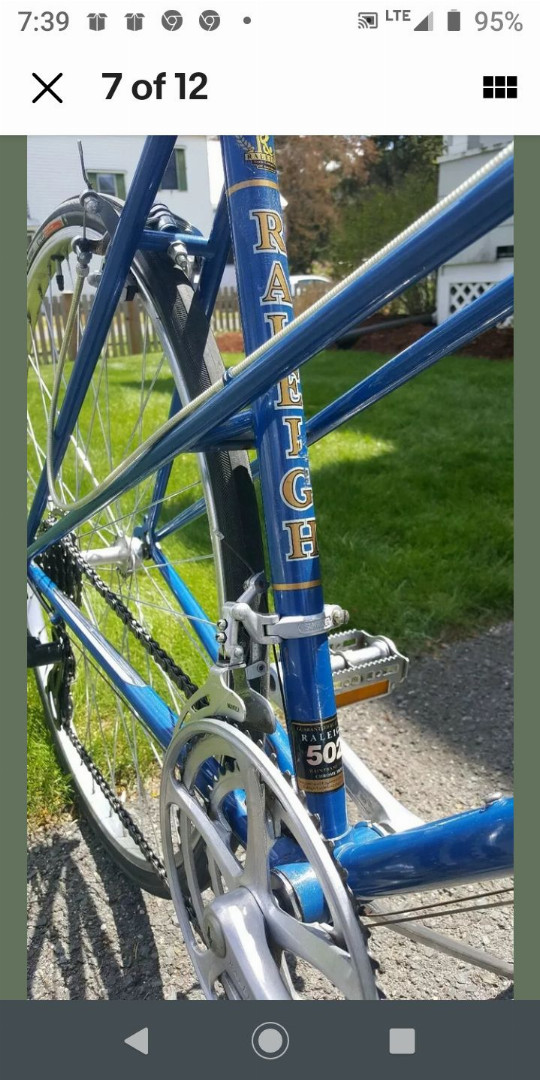 How can I be the best support for my loved one with cancer?
https://www.carenity.us/forum/cancer/living-with-cancer/caring-for-a-loved-one-1919
2020-05-22 15:01:23

explore2max
05/22/2020 at 5:48 PM
@Shellbell5724‍ Yesterday afternoon he was admitting into emergency room, they wanted to do a contrast to see if he had a blood clot, but the vein kept bursting só both of his arms looked like small football. So they kept him there on IV, I haven't been able to get a hold of anyone there. Meanwhile I found a deer tick in my body... up great like we need anything else to worry about. Ugh... at least he is in a place where they are taking care of him. I know he had a little to eat and hopefully he gets to withdraw fluid from his lung today. You are 100% right... baby steps, one day at a time and the key is to never give up. I am very thankful to have joined this group and you have managed to give me lots of hope. I will pray for you both and give you strength as you find out your stage. Keep me posted. Sending lots of love. 
How can I be the best support for my loved one with cancer?
https://www.carenity.us/forum/cancer/living-with-cancer/caring-for-a-loved-one-1919
2020-05-22 17:48:27

Shellbell5724
Edited on 05/22/2020 at 11:15 PM
It sounds like you are going through a very difficult time. Hang in there. I've been gardening. This group has been a tremendous help for me. And I also hope I can give others support. We found out the results of the pet scan today. It thankfully has not mestatisized or  spread to any lymph nodes. This is as good of news as we can have at this point. We have an appointment with the surgeon. The radiologist. And he will probably be getting a feeding tube before any treatment. He already has a huge difficulty swallowing. He wants me to be normal. I try so hard. But right now I am exhausted. I think the  waiting for the results was the worst. And now at least I know we have a plan.  And there is hope. 
See the signature
Michele
How can I be the best support for my loved one with cancer?
https://www.carenity.us/forum/cancer/living-with-cancer/caring-for-a-loved-one-1919
2020-05-22 23:12:50

Unregistered member
05/23/2020 at 6:46 PM
That' s good news Shell! Sounds like the cup's half full at least. For me I think the hard times are starting to recede into the past  a little now, I'm having more good days than bad. Not kidding. I've found a much nicer place to live here in Springfield MA for the time that I'll be here, I may even stick around for a while. I think now I'd be lying if I'd said I was miserable or unhappy Shell, not true. I'm realizing that some AA wisdom from the past has helped me, one day at a time (or one hour at times?). Get out and move, change those thoughts and so on. Sure they're slogans but that's just so people can remember them. Besides, all this wisdom has been around long before AA came along, It just took someone to put it all together in a book. I want to get on with it now, maybe put together a new life. I'm still putting miles on a bicycle although I have to keep dehydration in mind, this did get me once. There's so much more hope now guys.. I can't believe the progress that has been made in the last 2 decades or so. My biggest concern today is not so much cancer but trying to stay well with s badly compromised immune system and when I go for treatment many feel the same.. Stay well okay? It can.. and may very well get better. 
How can I be the best support for my loved one with cancer?
https://www.carenity.us/forum/cancer/living-with-cancer/caring-for-a-loved-one-1919
2020-05-23 18:46:22

explore2max
05/28/2020 at 7:24 PM
I haven't been here in awhile... but he was hospitalized last Thursday, hopefully he gets out today. I'm a little apprehensive because he was there all week and sounded like it was just shortness of breath, coughing and pain on right side. Well on Day 2 they took fluid out of his left lung, but that lung only had about a liter, then I hear from him that they took out 2 liters out of the right lung... I was like WTH why the right lung and the ICU kept telling him it's normal when you have lung cancer on the left and the fluid will drain into the right. Well... I was like nope something is wrong and we need to biopsy that liquid. No one suggested to do that and my partner was chilled. Yesterday I tried to be civil and I gave him many questions to ask as I'm not allowed due to Covid-19.  So this morning I get on conference call with his discharging doctor... so I asked her about the pleural Effusion on the right lung and she at this point needs to tell me truth. So... she dropped the bomb and told me that it's progression of the disease. I immediately was sick to my stomach, threw up like the exorcist and my partner was acting all cool, of course he has no idea what she just said. So, I tell him find out what does she mean by progression, meaning the 20% growth, spreading and it has gotten worse, which none of those are things you want to hear. Well, I hung up the phone at 9am. I still haven't heard from him. This is absolutely devastating because yesterday they didn't allow him to do his chemo, and now it's next Wednesday.  I need to find a little light at the end of this dark tunnel. 


I feel a little better as I have not communicated with anyone since speaking to the doctor. 
How can I be the best support for my loved one with cancer?
https://www.carenity.us/forum/cancer/living-with-cancer/caring-for-a-loved-one-1919
2020-05-28 19:24:52

Shellbell5724
05/30/2020 at 5:42 PM
Oh I am so sorry to hear this. I am sending prayers and love your way. I know they are the ones that are going through hell. It's so easy for everyone to tell us we need to be strong. I cringe watching him try to eat. He's maintained his weight for 2 weeks so I guess I'm doing ok. He's getting marked for radiation on Tuesday. I hope by the time he has his surgery I will be allowed in the hospital. I can't imagine what it is like to not be able to be there with him. Love and hugs to you ❤️
See the signature
Michele
How can I be the best support for my loved one with cancer?
https://www.carenity.us/forum/cancer/living-with-cancer/caring-for-a-loved-one-1919
2020-05-30 17:42:07

Curly top
06/02/2020 at 1:42 AM
Hello I am new to this group. I was diagnosed with stage 4 esophagus cancer in Nov. 2018. I was not going to fight it. I lost my mom to the same cancer in 2001. I went to see my surgeon at UAB she talked me into the surgery. After I had a feeding tube  put in. (I to lost weight) I had a 8 hour surgery. I had my esophagus transplant they used the skin from my arm. Both sides of Mr lynx had to be removed my tongue scraped my tonsils removed and my lymph nodes. I had radiation 5x a week for 10 weeks and chemo 1x a week for 10 weeks the radiation was horrible. After all of this I went back to the DR for my pet scan . I'm in remission know going on three years. I feel pretty GOOD the only meds I take is Tylenol and my thyroid medication I eat just about anything. No steak or Bacon. I have always said FAITH OVER FEAR. 
How can I be the best support for my loved one with cancer?
https://www.carenity.us/forum/cancer/living-with-cancer/caring-for-a-loved-one-1919
2020-06-02 01:42:32

vlp1120
Edited on 06/02/2020 at 6:28 AM
I'm new here. It's a little after midnight. My husband just went in hospice care about 2-3 weeks ago for stage IV kidney cancer that has metastasized to the lungs. He was originally diagnosed with Stage III in 2012. He's been fighting that long. Palliative Care was no longer able to manage his pain, so they recommended home hospice care. They quickly got the pain under control with fentanyl patches and quick-acting morphine. Then, a week ago, I started noticing confusion and delirium. I thought maybe he had too much fentanyl and morphine in his system. Now, hospice is saying this is probably the progression of the disease. Tonight, he asked me how long he has. I told him I don't think anyone can say for sure, but I decided to read the pamphlet they gave me about the end of life. I read it the first day they gave it to me, but at that time, it didn't seem to apply to him. He just needed to get his pain under control. He was still the same organized, meticulous man I had always known. Now, he is confused all the time. He thinks people have been here to visit. He thinks he is working a job he had three decades ago. The other morning, he was confused about his medication. He dumped all of his pill bottles on the bed and crammed as much as he could into his daily pill holders. It's heartbreaking. Anyways, I read the pamphlet. It breaks down what to expect 1-2 months before death, 1-2 weeks, within days, etc. Right there in black and white, the first thing on the list under 1-2 weeks before death is confusion and delirium. The exact words I have been using to describe his mental state. I did not say anything to him about this. There are times he seems to be more lucid when he asks my why he is so confused. I do have the social worker coming for a visit tomorrow. I am hoping he can give me some guidance. I knew this would be hard. I just pictured my husband the way he always is through this process - lucid, daily conversations about current events, reminiscing about the past, etc. Now, I find myself just trying to ease his confusion and agitation and make him feel safe and secure. I miss conversations with my husband. Thanks for listening. My thoughts are with all of you.❤️
How can I be the best support for my loved one with cancer?
https://www.carenity.us/forum/cancer/living-with-cancer/caring-for-a-loved-one-1919
2020-06-02 06:25:23

Keekapoo
07/13/2021 at 3:45 AM
@Curly top that is an amazing story!!! My mom was diagnosed just April of this year she also has scleroderma and raynauds she had her gtube placed on 5/6 radiation and chemo started right after Mother's Day.  Needless  to say with her malnutrition and new use of narcotics to manage pain she ended in the hospital that same week on Thursday….there 4 days no nourishment replaced gtube to a jgtube still no better delayed healing and 9cm bowel obstruction….discharged after 6 days that time then pain gastric contents spilling…no home health nurse discharged to help her and my 75 y/o step dad.  Back to hospital in 9 days still no feedings.  I moved her to cctca and have been happy so far her peg failed and now has a duotube that no home health manages so my step dad does that!! She is exhausted and giving up…..I just don't know what Else to do for her.  I am an ER/ICU nurse and I feel I should have the answers…..I feel defeated but I never let her see it
How can I be the best support for my loved one with cancer?
https://www.carenity.us/forum/cancer/living-with-cancer/caring-for-a-loved-one-1919
2021-07-13 03:45:21

Cooqie33
08/03/2021 at 2:09 AM
Michelle,
Already you have given him more than I have received (support wise) from anyone. Your post couldn't sing hi s praises much better than you have. I am not quite sure if u r really asking how to support him as much as yourself. please read on...
I have heard that when someone receives a serious diagnosis they immediately worry about the people in their lives before themselves. This was surely correct in my case receiving brain and spinal cancer diagnosis. Your husband may be much more worried for you and your son then he is of himself. The beginning of your post gives me this impression. If you think about it it makes sense. To be worried about yourself is no where near being selfish. That said, to worry what may take place in your absence seemed much more to me then me myself. What is considered petty in one's life immediately sheds away, also when diagnosed as such. What is and will be needed, that is effected by a serious ailment, comes to mind as well. Remember what we do not understand we fear the most. What can be understood and expected about a certain ailment usually could be listed out by the specialist. What remains up in the air is as I said and a huge fear of my own. You are in a worst state of mind then he is I am willing to bet. He wants to comfort you more than feel sorry for himself. Ask him how you can help and take what he says to heart, no matter what is said. He may tell you something you didn't expect because fact may be that he has no clue. No clue how to feel about something that only draws up more questions, something he needs is now. Meaning, what is to come cannot be prepared for 100% (his health) no matter how much info u gather. He will have to experience worst things than he knows now before he can prepare to treat them. The other saying about not knowing comes from the curious cat. What he feels and what's on his mind will be 2 different hurts. Allow him to tell you his worries of a future that possibly is without him, or at least less of his efforts being able to shape your family's future. Work on one issue at a time and try to lead the discussion in ways to comfort his worries. Remind him how strong you are as many times as it may take that you will succeed. Tell him all your worries as well and be truthful. Allow him to tell you things like limitations, due to ailment, and despite your worries never tell him where/what they are. Even if u believe him to be fighting past his physical thresholds, allow him to be the one to say when. Having another tell you what u can and cannot do is not only frustrating but one step closer to dying. We are a species made for enduring what we barely survived yesterday. He will surely know his limits and will surely apply them when needed. When needed may take a few times of anguish but how else is one to know? Become stronger than today Michelle, so both of your tomorrow's are better comforted. Becoming stronger has nothing to do with lying to yourself about anything. Feel what and how you feel for what u feel will uplift or bring you down. Anything held back (emotionally) will only add to all issues to come. Please stop hiding these things from him they must be addressed. Make sure it's good timing etc but I hope u get what I am saying. He wants to comfort you so show him what needs comfort. Only real can come from real and what's buried will arise with or without him around. Let him be there for you. I am sure your doing overly well enough to bring him physical comfort. You cannot cure what's physically happening but u can sure strengthen his days through it. Hope all becomes well with you and yours. I am sorry
How can I be the best support for my loved one with cancer?
https://www.carenity.us/forum/cancer/living-with-cancer/caring-for-a-loved-one-1919
2021-08-03 02:09:53
Members are also commenting on...
Medication fact sheets - patient opinions...
Subscribe
You wish to be notified of new comments
You have been subscribed