Neuroendocrine Tumour and PRRT therapy
Published Jun 15, 2017 • By Louise Bollecker
The below is a recent presentation that I recently gave on behalf of the NET Patient Foundation. The below story is my eleven years in full. This should hopefully explain the highs and lows during my time with NETS and the value of PRRT treatment.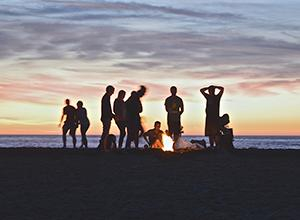 Hello, Ladies and Gentlemen, very pleased to be here so I can tell my story and hopefully help with my information.  My name is Andy Norris.

Please, if you can bear with me as I cannot explain eleven years quickly but will do my best to keep in time and keep you all interested.
Diagnosis and operation
My story started when I was diagnosed with a Neuroendocrine Tumour to the pancreas. I was at my Doctor's surgery and I noticed that they were providing well man checks for the over 40s males at my local surgery.  

I decided to take these basic checks. They took my blood pressure twice and it was high. They then decided to take a blood test twice over two weeks. After a couple of weeks, the initial blood test that I had given came back with abnormalities.  After further checks I was sent to the local hospital for a routine ultrasound check.
Not long after having this check and surprisingly within minutes I was given a CT scan by the radiologist that resulted in a large mass being located on my left-hand side of my upper body that was the size between a cricket ball and a football.  
I had felt no pain although over the years in retrospect, I had sporadic signs of diarrhoea but they could be easily attributed to spicy foods or drink.    

I was diagnosed the same day at my Doctor's after a hurriedly arranged appointment that afternoon at my GP's who told me the devastating news. I had a Neuroendocrine tumour to my pancreas that must had been secreted there for years and years as described subsequently by the surgeons.

It was a massive state of shock, cancer, NETS what is it? All I could think of was a police funeral and my Wife and family who were very young at the time.
 
I managed somehow to contact Catherine Bouvier at NETS. She was brilliant. Very kind, empathetic and extremely knowledgeable. Since that time, she continues with her limited team to be a shoulder whenever I need it.

The surgeons moved very quickly and remarkably it was supposedly all removed and I was given the all clear. I lost my spleen and part of my colon during surgery as well as the large tumour. The surgeons struggled to maintain the safe margins but did a great job as it was getting nasty and very vascular.
Tumours are back

This remained the same for approximately four years when I returned to the Doctor's for an unrelated matter.  

Due to my mental state at that time I was very concerned that it was always going to return. The Doctor was so concerned he recommended me for another ultrasound scan that picked up tumours had returned to my liver and were inoperable.
Trying various treatments

I was subsequently allocated a Specialist Professor at the local Specialist Cancer Centre. He took care of me for the next four years providing routine treatments to control the tumours.  

I was given a course of chemotherapy but this seemed to pass over the areas possibly because of their inactivity at the time. I could live a normal life at home and in the Police. I continued to have routine hospital visits and still living with my cancer.

Following this period, I was allocated another Specialist Professor who continued with various other diminishing treatments in attempts to control the tumours. During this time, I was also provided with a nuclear scan as he had another treatment in mind. However, this did not show many receptors on the tumours and it was decided that I was not eligible for the proposed nuclear treatment.  

Following this time, I was provided with the treatment Everolimus.

However, due to my low immune system at the time I was extremely unlucky and contracted the life-threatening brain bug Encephalitis four years ago and nearly died.  This was a horrendous ordeal and illness because I became seriously ill. It got to a stage where my Wife contacted my family to tell them to visit me as it appeared that I did not have long to live.
 
I had to retire early from my great job as a Detective Sergeant serving 26 years within the police Service. I was devastated as I loved the job.

Even though I was very poorly it could have been much worse because it is a life-threatening illness. However, I came off lightly losing a few brain cells and getting epilepsy.  Whilst in hospital I suffered from some terrible dreams and a large amount of horrible and often scary hallucinations about my past work in the police. These were very real extremely scary and active in my mind. These felt like total realism. The time was shocking for my family and still leaves a legacy today.  

My family were very worried and struggled to cope and became increasingly worried and aware that my treatments were becoming limited and that my limited NET treatment options were running out.

My calcium started to increase at alarming levels as the tumours sought more calcium from my body.
Life-threatening peak of calcium levels

This continued for approximately two years whereby, I was in and out of hospital on a regular basis. Each time whilst in hospital I was provided with fluids and other medications that failed at lowering my calcium levels.

The Doctors became increasingly worried because nothing would lower my calcium levels. It was starting to take its control over my whole body. I began to lose my speech and ability to hold a conversation. I also could hardly walk a few feet as my legs were becoming increasingly weak, I was near bed bound now. It also made me increasingly susceptible to loud noises and I became very withdrawn in myself.

This was very hard for my family who had to increasingly get used to my regular mood swings. I found it impossible for me to button my shirt or my trousers due to my deteriorating health. Now, I also suffered heavy falls in hospital and at home leaving me badly bruised shaken scared and sore. Again, fearing for my life.

The Specialist staff continued to give me treatments that did not work and allowed my calcium to become at dangerous levels threatening my bone marrow and other parts of the body.  By this time my normal treatment options for reducing calcium were ending and showed no signs of any improvement and I continued my very poor health remaining weak and withdrawn. 

I also was diagnosed with epilepsy and had two large seizures over the last year at home whereby on one occasion I thought I was drowning through my bed and that was extremely frightening and lasted for about twenty minutes. You just feel you are craving for help to get you back. My Wife Melanie came to my aid along with an Ambulance crew. Again, ending up in hospital. This happened again where I was taken to hospital and returned home after checks.

I am now left with a feeling of sickness and a strange feeling down my left arm. These occur sporadically but often turn into larger ones where I feel my jaw is coming apart from my face. Again, very scary and all I want is my wife to bring me out of them that last up to five minutes.

I am on daily medication for the symptoms and can no longer drive that is very difficult for myself and family. About eighteen months ago, I was being considered for palliative care at home such was my state of health.
A new solution

The route of all my problems was my calcium levels being so high and were affecting my basic bodily functions and was not far away from threatening my life or my major organs again.

At this point my Professor recommended me to attend the Weston Park hospital in Sheffield to speak with Doctor who was performing a relatively new treatment that involved nuclear medicine that was non-invasive and injected into my arms known as PRRT. (Peptide Receptor Radionuclide Therapy).

It was clear to my initial Professor that one of the tumours appeared to stand out and was requesting the extra calcium to enter the blood stream.  

An earlier nuclear scan was provided along with my medical records to Dr W. The scan showed up limited receptor activity in areas where I had been effected. Despite my very poor health I was amazingly accepted for the PRRT Y90 DOTATATE Therapy treatment by Dr who is one of my many heroes.

The procedure involves receiving an infusion of the hormone octreotide linked to radioactive Yttrium-90. This is made in Southampton and shipped to Sheffield just in time for each treatment.
 
In September 2015, and had my first treatment staying overnight at the hospital before leaving the next day. I was very lucky as the NHS had stopped or seriously limited the funding of PRRT a few weeks later. This is something that we should continue to pressurise the powers in charge to have it re-instated.
It worked!

Nothing really happened for the next week apart from me being tired but I suffered no real side effects.

Within a week and without any warning I started to feel subtle changes and the benefits of the treatment. It was life changing because suddenly I could join in conversations and my coordination became back walking my Golden Retriever dog. (I will summarise what I can now perform shortly)

The change was unbelievable and people started to comment on how well and coordinated I had become.  My memory is becoming sharper as I can recognize names and faces again. I also more tolerant with family and friends. It's incredible how this has become true after only one treatment.  

My family and myself have recognized a massive change in my overall health and the fact that they are able to perform less tasks on my behalf.  The health benefits have been terrific and unbelievable.

I feel like person reborn and given another chance in life. Before I always used to think for long periods how long I have got and when am I going to die?  

I recently conducted a 10-week NHS rehabilitation course in my local gym that was fantastic and I have now joined the gym properly because of the staff and the work. This gives me a great boost of self-confidence and a good feeling.

I can run now walk and run five miles, row ten thousand metres over two days and I performed recently raising two hundred pounds for a CRUK. I can also ride seven miles on the gym cycle and to and from my home in all weathers. I must add this is not after each other but I can easily exercise for one and a half hours and conduct other weight exercises. I am also now able to write reports again.
 
This is an amazing transformation for me and I believe it is down to my amazing Wife and family who have stayed with me side by side throughout all the time. Also, the PRRT treatment and somehow my self-strength. I will keep going to enjoy and fight for my life.

I am now better but it still has its legacies in my life and that of my family that could be a separate presentation. I still get periods of anxiety and depression but I believe under the circumstances this is natural. Although, it is very debilitating and disturbing when it occurs.

I am trying to remedy this all the time but it is incredibly difficult to get people including, professionals to understand NETS and the ordeal that many are facing today.

I now am very passionate and committed in giving something back for all the help I have received over the years.  

I communicate on Facebook and other sites to talk to my friends and family to tell my story to give help to others with the message NEVER GIVE UP! I also provide important material on the advances in cancer treatments and good news. Although there are still very sad cases but this occurs in all walks of life not just cancer.
I am sure that this treatment will provide others with the unbelievable health benefits that I have achieved.

I really enjoy representing the charity. I also do some more work when I get time for the NET Foundation that deals with my type of Cancer whenever they need me.
I also find it great working for as a CRUK Ambassador and other roles liaising with my Local MP David Davis BREXIT Minister. He responds very well in respect of my campaigning along with his Parliamentary Secretary.  

The main thing is I am surviving for many reasons - great family, NHS, CRUK  for research and trials and from the porters to the Specialists. Also, not forgetting the NET Patient Foundation CEO Catherine Bouvier and her team.  There are more special people but the list is too long.  

JUST NEVER GIVE UP! YOU NEVER KNOW LUCK MIGHT FALL ON YOUR SIDE.
2 comments


You will also like
Fact sheet