Encountering many Diagnosis Errors Before Being Diagnosed with Chronic Asthma and NASH
Published Dec 16, 2018 • By Louise Bollecker
Read the story of Anna, a 26 year-old member of Carenity Italy, who lives with asthma and NASH. Anna fought for many years, after being sent from one doctor to another, to find a clinician who would take the time to investigate so she could obtain a proper diagnosis and achieve a better state of health.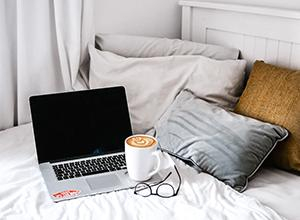 Hello Anna (@Annie24), could you please introduce yourself?
My name is Anna I am 26 years old and I live in a small village in the beautiful Tuscan Maremma a few kilometres from the sea. I am currently doing an internship as a secretary in social services.
How did you find out you had NASH and bronchial asthma?
I was diagnosed with bronchial asthma at the age of 18. I saw several doctors who didn't understand why I couldn't run like my classmates. I produced too much catarrh when I was stressed and I also had tachycardia. Everyone thought it was a heart problem - I saw some cardiologists. During an appointment, one of them had a good intuition and referred me to a pulmonologist. I passed the spirometry test with metacholine and the verdict fell: chronic bronchial asthma of a severe degree. Unfortunately, not having had any obvious seizures in my childhood and having a late diagnosis, my pathology became chronic, but it improved a lot with the right medications.
As for NASH, the story is more or less the same: each ultrasound scan since my teenage years,  found that my liver was still working well and healthy, that is until the steatosis gave a completely white image of my liver, making it more difficult to diagnose underlying liver diseases. The doctors, however, dismissed this change as a result from me being overweight (having breathing problems, I wasn't doing enough physical activity) and all the doctors did was advised me to go on a diet. The problem of hepatic steatosis did not improve, despite improving and watching closely my diet. In 2012, I suffered a very serious and unknown gastric infection, which spread to several organs, including the liver. I consulted a hematologist because my lymph nodes were swollen and I had to seek medical attention in order to prevent me coming down with lymphoma or leukaemia. This same hematologist was also an oncologist at the Grosseto hospital and had assisted in the care of my grandfather throughout his fight against a liver tumor caused by a NASH, which had progressed to cirrhosis and then cancer. During the visit, my mother insisted on the similarities of the symptoms with those of my grandfather. She showed the doctor my last ultrasound of the upper abdomen: that's how I finally got an appointment at the hepatology department of Cisanello Hospital in Pisa.
Did you expect this diagnosis?
I expected to be diagnosed with asthma, but I didn't think it was such a serious degree of asthma; as far as NASH, it was more like being struck by lightning because previously all the doctors had told me that it was only due to my weight, so I did not think I had NASH or any such disease. The doctors made it seem like it could be revered through diet changes... NASH, on the other hand, is a chronic inflammation of the liver, so it is a disease that can have serious consequences.
What have been the greatest difficulties you have encountered since the diagnoses?
The main difficulty was to just finally obtain a correct diagnosis. I feeel like I consulted with so many doctors before finally getting the right diagnosis... some who even dismissed my symptoms as being a result of a psychiatric illnesses. Fortunately, the psychiatrists I saw disagreed! I also noticed that each doctor made a different diagnosis without taking into account the opinions of his colleagues, to such an extent that I had to repeat the same blood tests, because a doctor did not trust the analysis of another laboratory or other doctor: in reality, I feel as if there is absolutely no dialogue or collaboration between the different medical clinics or doctors.
Are you satisfied with your current treatment?
I am satisfied with the treatment I am receiving to keep my asthma under control, because unfortunately I had the misfortune to meet a doctor who, for a year, treated me with an experimental drug, which not only did not treat my condition, but not strongly advised to be prescribed for asthmatic patients. For a year under th care of that doctor, I had a worsening of symptoms, which even forced me to go to the emergency room several times a month. When I decided to leave this doctor, I was treated at the Pneumology Department in Grosset where I met a very competent doctor who was horrified when he found out what medication I had been and was currently taking. I immediately changed the medications and treatment and within a week I felt a major improvement, with a drastic reduction in acute asthma attacks.
What does Carenity bring you on a daily basis?
Your platform supports me because I like to hear from other members and how they live with the same disease: I find real life examples to follow.
What features of the Carenity site do you use the most?
I like to read your articles, especially when they concern new medical discoveries that may cure my diseases in the future.
What message would you like to send to other members?
I would like to say that, unfortunately, each doctor has his or her own vision of the diagnosis, and that vision is not always scientific or objective. If you feel that your doctor is not listening to you, find a second opinion or request a referral to another health professional! Find the best doctor and treatment you can and do not be afraid to ask for another opinion.
Members, please feel free to comment, ask questions, and thank this member for the testimonial.
You will also like
Fact sheets