Depression: the importance of accepting yourself
Published May 19, 2017
An amazing story about loving and accepting oneself and staying unique. " I have to be here on this earth then I shall try my best to become the person that I want to be no matter what..."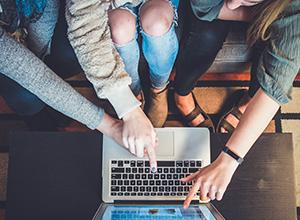 Hello Sylvery, could you introduce yourself in a few lines?

I am a 60 year old divorced female living alone with 7 cats and 3 chickens - so never lonely - I have 2 children and 3 grandchildren.
How did you hear about Carenity and what motivated you to subscribe?

I do not get to talk much about myself and conditions so was just browsing the internet to see what was out there.
When was your depression diagnosed?

I was depressed from the age of 16 and diagnosed with Manic Depression as it was once called, at 26.
Do you have other conditions? Which ones?

I have always been obese when it was not 'fashionable' on good home cooked food, I have lost weight numerous times on my own and had 5 obesity operations, the last one where I nearly died in 2016, but to no avail - I always say 'God wants me to be fat' I have Stenosis of the spine, Sinusitis, (Dyslexia, Dyscalculi, Dyspraxia, Asperger's, all privately late diagnosed) Fibromyalgia, diagnosed 2015, and hearing loss in the left ear.
Has it been easy for you to cope with your conditions? Has it changed something in your relationship with your family?

I have always found life hard but now I know the reasons why.  I have and still am finding it difficult to relate myself to all of the late diagnosis.  I isolated myself over the past three years and am trying now to come out of my shell again.  I am estranged from my youngest sister who also has some of the same conditions, (there are 6 diagnosed with Asperger's in my family up to now) I correspond with another but the other two do not bother to get in touch.
What has been the most challenging thing you have had to go through because of this conditions?

Because of knowing I have Asperger's, Dyspraxia and Dyslexia I find that I am different (I always said it was because I am an Aquarian that I am as I am) I always thought I was normal but quirky, and now I know I have Neurological differences.  Depression is a consequence of all of these conditions and I feel that Fibromyalgia is also because my body and mind are 'burnt out' with it all.  Finding myself is the hardest part of all of this.
As for today, what medication or treatment you think has worked best for your depression?

Citilopram takes away the 'fear', of what I do not know, but it enables me to carry on with my life and ambitions.  Self-help books help too, and my favourite is 'Stop Thinking Start Living' by the late Richard Carlson, I have read it 16 times.
What practical advice could you give to other people who live with depression on how to cope with it in everyday life?

You have to tell yourself it is 'ok' to feel depressed sometimes and just pick out one positive thing in each day.  Some days when it is been so hard for me to have a bath, I smile and pat myself on the back after doing so.  Small steps are huge steps for people like us, so praise yourself.  There are always positives in every day. It is hard but it has to be done especially if you want to lead an independent life.  I could have had a disabled card when I was 16, and I refused.  I just kept going, it was hell sometimes, (suicide attempts and ETC treatment and mental hospitalisations) but I am still here and still learning and hoping and trying.  Oh yes, and the best tip I can give is to stop feeling guilty.
Do you think Carenity has helped you in some way?

I like reading about people who have some of the things that I have, and it helps me to realise that it is not always in my head and that this does exist for others. That it is real.
What positive message would you like to share with our readers?

Life is short, I usually say thank goodness lol - but as I have to be here on this earth then I shall try my best to become the person that I want to be no matter what, even if I keep coming to crossroads and have to decide which road to take again, and this is with Depression, differences and lots of pain. 
Keep trying, keep your head held high and do not give up, everyone has their weaknesses and strengths, you just have to find yours.
1 comment

You will also like
Fact sheet