Myasthenia gravis: "There are worse things in this world, this is what keeps me going."
Published May 18, 2022 • By Baptiste Eudes
Caterina1983, a member of Carenity Italy, is 39 years old, a mother of two and a teacher. In her testimonial she tells us about her journey with the disease and how she was diagnosed with myasthenia gravis!

Read her story below.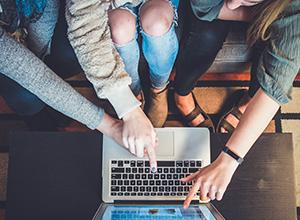 Hello Caterina1983, thank you so much for accepting to share your story with us on Carenity.
First of all, can you please introduce yourself?
My name is Caterina, I am 39 years old, I have two daughters and I am a teacher.
When did your symptoms appear? Was it long before the diagnosis?
I found out I had myasthenia a year after I had my baby girl. Prior to receiving my diagnosis and finally finding out what I was struggling with, I had been trying to find a solution for over a year.
What was your reaction when you found out about your diagnosis?
When I finally discovered the cause of my various ailments, I was so scared... I had never heard of myasthenia gravis before. What will happen to me? How long do I have? What should I do? All these questions were answered by my neurologist, who tried to calm me down. At first, she even succeeded, but then she scared me away by not offering me a clear path to recovery...
How did you manage to regain your energy and stay optimistic?
Fortunately, I then found a very competent care team that literally got me back on my feet. I'm a person who always sees the glass as half full and this helped me keep my spirits up.
Did you have to change any of your habits to be able to better manage your condition?
I tried to maintain my usual habits, not to give up and to completely rely on the specialists. It allowed me to get a better understanding of the disease and of the way I could manage it better, so that I could have as similar a life as possible to the one I had before.
What about today? How are you feeling? Has your health improved?
What really helps me today is cortisone, my new life partner. It allows me to have an almost normal life. Sometimes I increase the dose... if I'm doing well, I decrease it... I'm always looking for the right balance. I don't do a thousand things a day like I used to. I try to do one or two (the most important ones) and then I have to rest.
What symptom is the most difficult to cope with in your everyday life?

Some of the most annoying things to deal with are certainly diplopia (double vision of a single object) and dysphagia (difficulty or inability to pass food from the mouth to the esophagus) which occur when I am very very tired... But I am optimistic, I know I will get through this! I have learned to manage my daily life by prioritizing. 

Do you think you can have a "normal" life with your condition?

I am now on maternity leave as I had my second baby in November. The illness affected me a lot during my pregnancy and even now, when I'm breastfeeding, it is not easy to handle.
What can you say to other patients who are suffering with the same disease? How can you encourage them to keep hoping for the best?
Unfortunately, there are worse things in this world, and with this conviction, I continue to live my life even if it is not how I imagined it to be, even if I have to make more sacrifices than I thought I would... thanks to my family! I don't give up, I keep hoping for better and more beautiful days.
Anything else you would like to add?
To those who are struggling with these insidious diseases on a daily basis, I would say, don't give up and always think positively. Facing things with a smile makes them weigh half as much.
Many thanks to Catarina1983 for her testimonial! 
Was this testimonial helpful to you? 
Give it a "like" and share your thoughts and questions with the community in the comments below!
Take care! 
You will also like
Fact sheet