Top
Grilled Chicken and Tomato Salad
Published Feb 28, 2018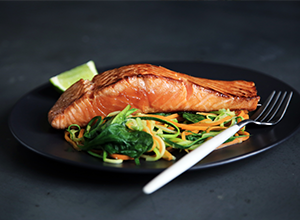 Category : High protein
Type : Main course
Difficulty : Intermediate
Directions : 10 minutes
Cooking time : 20 minutes
Price range : Just right
Ingredients 4 Number of people
1. 4 skinless, boneless chicken breast halves (6-ounce pieces)
2. 5 cups of arugula salad mix
3. 1 cup cherry tomatoes, halves
4. ¼ cup thinly sliced red onion
5. ¼ cup olive oil and vinegar salad dressing, divided
6. Pomegranate seeds 
7. ½ cup goat cheese crumbles
8. ¼ teaspoon salt
9. ¼ teaspoon black pepper
10. Cooking spray
Directions
1. Heat grill pan to medium-high heat, spray pan with cooking spray when heated.
2. Season chicken with salt and pepper.
3. Place chicken on grill pan and cook for 6 minutes on each side until cooked.
4. Combine arugula, onion, tomatoes, 3 tablespoons of olive oil and vinegar dressing; toss.
5. Divide salad onto four plates, top salad with 2 tablespoons of goat cheese crumbles.
6. Brush chicken with 1 tablespoon of olive oil/vinegar dressing, cut chicken into slices.
7. Divide chicken on top of the salad plates equally.
8. Sprinkle pomegranate seeds on top.
Notes/Tips
Tip: Use vinegar and pepper and cut out the olive oil to lower the fat content.