Applications to Help in the Fight Against Chronic Pain
Published Oct 17, 2018 • By Louise Bollecker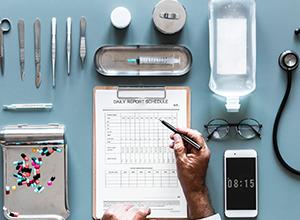 To help people deal with chronic pain, many applications for mobile devices and the web have emerged. Most of these applications are easily found using the "Application Center" on your mobile device, such as Google Play or Apple App Store. These applications are tools for those suffering with chronic pain or pain from an illness to be able to better manage, track, measure, and control the pain.
Below, discover some of the most popular applications put together for you by the Carenity team.
Feel free to comment below with any recommendations or experiences!
Manage My Pain
Manage My Pain helps you identify and understand your symptoms and at the same times equips you with this evidence to show your doctor. This application provides charts, graphs, and statistics  for your symptoms to show your family, friends, and doctors to better explain your condition.
Available on: Google Play | Web
FibroMapp
FibroMapp is not only for those dealing from Fibromyalgia. It is great for those with SEID, Lupus, Chronic Regional Pain Syndrome, arthritis, muscle/jint pain, and chronic pain.
FibroMapp goes beyond just tracking pain.  It allows you to track your pain, sleep, mood, fatigue level, aggravating factors (weather, stress, etc.), activities that increase your pain, and more. Additionally it offers features such as a journal, medication tracker and medication alarm, and reports for doctors.
Available on: Google Play | Apple Store | Amazon App
Flaredown for Chronic Illness
Flaredown is focused on making it easier for you to track and discover the source of flare-ups. The application allows you to simply track conditions, symptoms, and treatments and to identify details about your day that may be affecting your chronic illness.
Additionally, it provides you with graphs and recommendations to properly manage and control your illness.
Available on: Google Play | Apple Store
Pain Relief Hypnosis – Chronic Pain Management
Pain Relief Hypnosis was designed to help prevent chronic pain from interfering with your work, sleep, and life. This application provides you with hypnosis audio sessions which are read by the soothing voice of a certified hypnotherapist with a peacefule background music and nature sounds to relax you.
Try this app and see if hypnosis can help mange your pain.
Available on:  Google Play | Apple Store | Web| Amazon App
My Pain Diary
My Pain Diary makes it easy to track your pain and symptoms, allowing the user to enter in information about the location of the pain, the type of pain experienced, and other factors. My Pain Diary makes potential connections between certain reported events, such as weather, depression and flare-ups to see if such factors affect your pain.
My Pain Diary provides a Recall feature which allows you to see how well you have managed the pain over a specified period of time by reviewing medications taken by day, pain levels, and much more. Additionally, the Report feature generates a report in PDF format that you are able to share with your doctors that contains pain intensity, descriptions of pains, weather, and additional features.
Available on: Google Play | Apple Store
Carenity
Without being 100% dedicated to pain, the Carenity mobile app provides you with the accessibility to everything Carenity has to offer with the click of a finger. In your pocket, you hold access to the forums, discussions with members, testimonials, and the latest health news.
Download the Carenity mobile app from Google Play or the Apple App Store
You will also like
Fact sheet